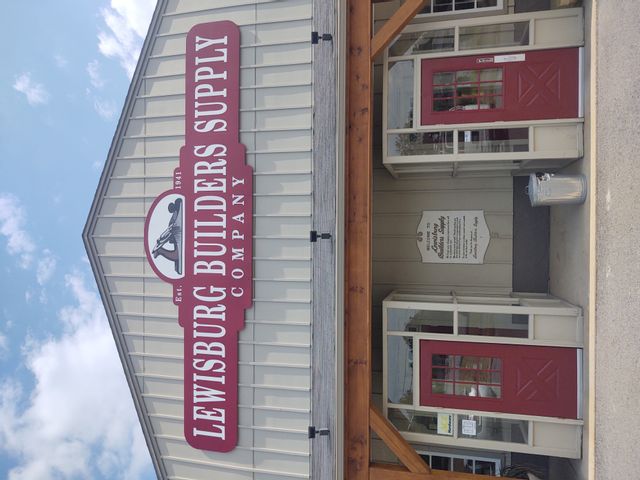 Lewisburg Builders Supply
We are Lewisburg Builders Supply - your foundation for great building projects!
Lewisburg Builders Supply was founded in 1941 by the late C. Frank Zimmerman, a local contractor, who was frustrated by his inability to buy anything but basic, ordinary items from existing lumber yards. His willingness to seek out and special order the unusual and hard to find items is a basic premise of our business today.
Arthur R. Borden joined the company part-time in 1946 while attending Bucknell University. His work at the company prompted him to change his major from pre-law to business. Following his graduation in 1950, he became full-time with the exception of the two years he spent active duty in the United States Marine Corp. In 1956, Zimmerman retired, and Borden purchased his interests.
Lewisburg Builders Supply operated in the downtown location until the 1972 flood when he established our current, much larger location at 160 Hafer Road. The new location opened its doors in 1979 with an expansive 50,000 square foot facility featuring an indoor and outdoor lumber yard, Wood-Mode kitchen and bath design center, and hardware store.
A true family business, Lewisburg Builders Supply continues to thrive under the leadership of Art's children and grandchildren. Daughter, Elizabeth Griffin serves as President, and her husband Michael Griffin operates as the company's Vice President. His grandson, Arthur Griffin, started in our warehouse and lumberyard, moved on to rebuild and revitalize our woodshop, and as of 2022, has now moved inside to be a part of our sales team.
We have proudly served the Susquehanna Valley with the highest quality lumber and building materials for over 75 years. As a multi-generational family-owned business, we set our own policies. We treat each customer individually, basing our decisions on that person's singular needs. In everything that we do – from our products to our customer service – we will strive to exceed your expectations. That's our promise to you.
So for your next contractor job or home improvement project, remember our name: Lewisburg Builders Supply.